---

---
If you would like to make a tax-deductible donation to support Wikipedia, click here:

---


The book I wrote about brewing your own beer at home:
---



---


Austin Air Healthmate - The Best Air Purifier Available
---
---
---
Photo-Mosaics: Choose from Beautiful Artistic Prints or Have One Custom-Made from Your Photos!
---
Manuka Honey - Active 16+
From New Zealand

Manuka Honey is unique among honeys. While all honeys are known to impede the growth of bacteria due to the fact that they contain naturally occurring peroxides, Manuka Honey, has additional antibacterial properties. It makes a very interesting mead, which may provide health benefits beyond those already shown from the moderate consumption of fermented beverages.


---
---
Cask-Conditioned Real Ale:
Coming soon:
My Favourite British Pubs (photos, stories...)
A Cellarmanship Primer
An Illustrated Guide to Using Handpumps for Serving from Cornelius Kegs
---
---
If I've judged one of your homebrewed beers at a competition and you would like to send me feedback (positive or negative) on how well I did, please click here:
---
Brewery Tours:
(If you are unfamiliar with the process of brewing, begin with the Samuel Smith's tour which explains it.)
Cantillon Gueuze Brewery and Museum -- Anderlecht, Bruxelles, Belgium
Fuller's -- Wansworth, London, England
Shepherd Neame -- Faversham, Kent, England
Crouch Vale -- Woodham Ferrers, Chelmsford, Essex, England
Quicktime Video Brewery Tours
MORE!
---

ARTICLES:
---

OTHER INTERESTING INFORMATION:
---

Also coming soon:
The BrewInfo Brewing Library
The Chicagoland Beer Tour
Judging sheets from dozens of commercial beers
The Internet Security and Spam-avoidance Page
Frequently Asked Questions and Answers on Beer and Brewing
Recipes
Book reviews
Beer magazine article reviews
Beer-related travel
---
---
Email me at korz100 at yahoo dot com if you have questions, problems, comments or just want to chat...
---
Great Beer/Brewing Links:
BeerMe! is an interesting site run by Richard "gak" Stueven, Brewmaster at Egan Brewing Company, De Pere, Wisconsin (formerly the tentative Brewmaster at The Moloka'i Brewing Company, Kaunakaikai, Hawaii).


Jim Liddil's Biohazard Lambic Brewers' Page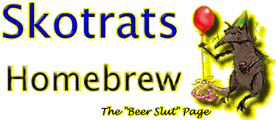 SkotRat's Official Homebrew Beer Slut Webpage
---
My Homebrew Club Links:

CHICAGO BEER SOCIETY HOME PAGE
---


You are visitor #
since March 27, 2000.

WEB-COUNTER is the only way to go!


This site last updated: 9 August 2011
korz@brewinfo.org